Knock2bag presents:
Knock2bag Presents Luke McQueen: The Person Behind The Celebrity
Luke McQueen + Lucy Pinder
£11
Entry Requirements: 18+
Luke McQueen presents a new farcical chat show; "The Person Behind The Celebrity", where he ignores the celebrity guest and instead speaks to someone less known from their life, sat directly behind them.
You might see him speaking to Ferne Brittons Mother or John Fashanus Plumber. This is a chance to tell their story without interruption; whether it's an ex boss on why they had to fire them, a cousin whose job brings shame to the family, or even a bloke on the bus who once gave up their seat for the pre fame celeb but didn't feel he was thanked enough. Whomever the person behind, the celeb guest MUST remain silent throughout the interview, unable to defend themselves to any unsavoury stories.
There will also be plenty of crap games, special guest performaces and pre recorded videos to create an entertaining atmosphere for people to clap along too. It's basically the Johnathan Ross show if Johnathan Ross wasnt presenting it and his guests weren't allowed to talk.
Line Up
Luke McQueen
"Nervous laughs at the unpredictability of a lunatic merge into heartier guffaws for his bold set pieces, raw potency and inspired ideas" Chortle "Humour, charisma, script and methodology shine with originality" Short.com
"McQueen knows the rules of comedy and he enjoys burning them" Broadway Baby'
"A monstrously overgrown baby that has burst free of its play-pen...McQueen makes the room crackle with life" The Guardian
"A comic you should definitely see immediately is Luke McQueen… Impeccable timing and a grandmaster of chaos" Edinburgh Evening News
"To spend an hour when it feels like genuinely anything can happen is a real treat" The List
"A true maverick" The Scotsman
"He really feels like an undiscovered treasure. His anarchic and confrontational style is far from mainstream, but Luke McQueen is rapidly beginning to be regarded as a minor deity of the alternative comedy scene" The Wee review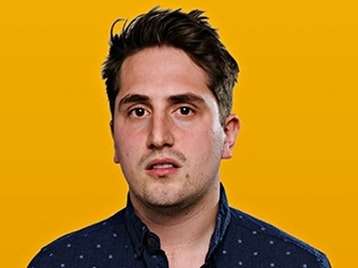 Lucy Pinder
Lucy Pinder is an English model and actress. She came to prominence in 2003 after being discovered by a freelance photographer on Bournemouth beach and has appeared in such publications as FHM, Nuts, Loaded, and the Daily Star