Knock2bag presents:
Knock2bag Presents The Honk Show - A New Act Night
Brian Gittins + Matt Seeds + Tara Newton Wordsworth + Michael McKeon + Jan Smolaga + Horatio Gould + Patrick Brusnahan + Archie Henderson + Ivanov Saarinen-Boeck + Joe Hobbs + Pete Nash + William Stone + Toussaint Douglas + Wolf from Gladiators + Adam Flood + Louise Bastock + Michael Buttersworth
£11 in adv
Entry Requirements: 18+
THE HONK SHOW is coming to Moth Club, but can you handle the honk?
"How should I know? What's the honk show?"
Thank you Madam!
Think Britain's Got Talent, but not shit, only comedy acts, not the same noise, no celebrity judges, and not on the TV! Other than all those things it's basically the same.
We're giving the power back to the audience, introducing comedy's most brutal competition. Brian Gittins hosts THE HONK SHOW, a savage comedy tournament where 18 new acts get 5 mins of stage time for a chance to win over the audience and a spot at a Knock2bag show!
So here's the rules - If you hate them give them a honk, if you love them send them through to the final where the acts compete for the grand prize - a spot at Knock2bag Rich Mix Saturday night show!
Only the toughest acts survive. It's like Bear Grylls but with no island, no practical survival techniques and not on the TV!!
It's THE HONK SHOW - with Brian Gittins, where the audience decide who's the best, like the good old days.
To compete email us over your details here: honkshow@knock2bag.co.uk
Line Up
Brian Gittins
Pyecombe's finest cafe owner and Ricky Gervais support act.
'very funny, inventive and engaging comedy show' – The Daily Telegraph
T – @briangittins1
Challenged was named one of Time Out's top 10 comedy shows of 2014 'So stupid and charming it was impossible not to have a good time'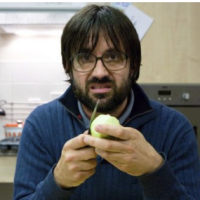 Pete Nash